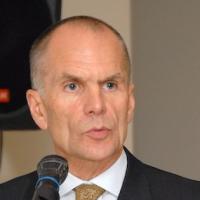 Belgian
Founding partner of ACTiWE Consultants.
From 2006 to 2012, founder and General Manager of the Brazilian subsidiary of the Schlegel International Group.

Previously Director Sales and Marketing Industrial Products Division within Schlegel International.

General Manager of the Italian subsidiary of the group in 2010.

Export Manager South America and South Africa between 2003 and 2012.
Paul has extensive experience in international B2B commerce, in particular related to technical components and customised systems for industrial applications. He gained a Postgraduate degree in Management under the supervision of Prof. Dr. A.J. Vlerick at the Rijksuniversiteit Gent (RUG) and the Ecole de Commerce Solvay at the Université Libre de Bruxelles (ULB).
He has participated in degree boards at the Ecole Supérieure de Commerce (I.F.I. division), Rouen, France.
In addition to French, Paul speaks, reads and writes fluently in Dutch, English, German, Italian and Portuguese.
For many years Paul has also supported and encouraged contemporary artistic projects in the plastic arts, theatre, music and dance. He is Chairman of the Board of the contemporary theatre company Lucilia Caesar asbl.